The whole purpose of our breeding program is to produce the best possible puppies for the ultimate purpose of a dog: to be a companion to a human family. Everything we do here is about raising the healthiest, happiest, best-tempered puppies possible. Starting with our thorough puppy health guarantee and finishing with extensive socialization, training, and love for each individual puppy, Ugly Mugs pug puppies for sale are predestined to be beloved family members.
As dedicated pug breeders, we have carefully selected all of our pug parents for their freedom from genetic health defects. We practice diligent hygiene to prevent parasites and disease in our pug house. Proper animal care and healthy parents are the foundation for raising healthy puppies. We vaccinate our puppies at six and eight weeks with a six way vaccine. All puppies are protected by our three year health guarantee.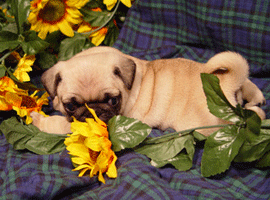 We raise our AKC pug puppies with patience, consistency, and a great deal of love. You won't find a pug puppy for sale here who is afraid to be picked up or is frightened of loud noises, children, or vacuum cleaners! Only with daily handling and lots of variety in their play can puglets develop into the most intelligent, intuitive, and confident pugs possible.
We are very proud of our pugs and how they live. Visitors are welcome with an appointment.
Ready to get started on the next fifteen years of your life with a new buddy by your side? Read our Pug Puppy FAQs below, and then join our email notification list.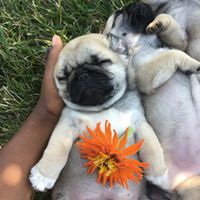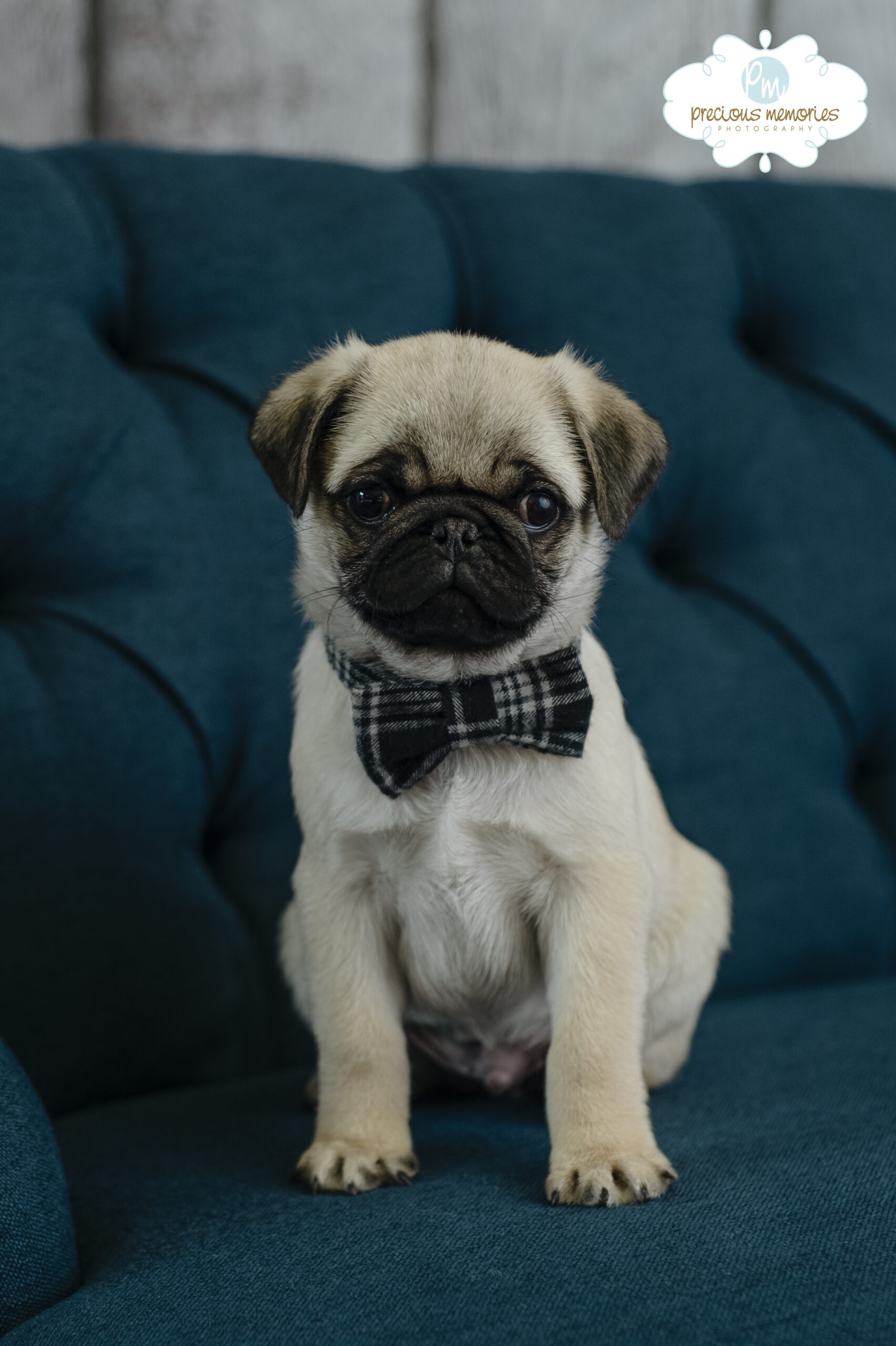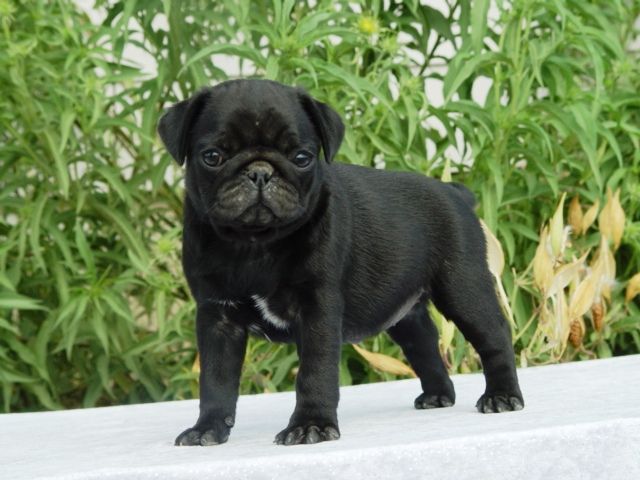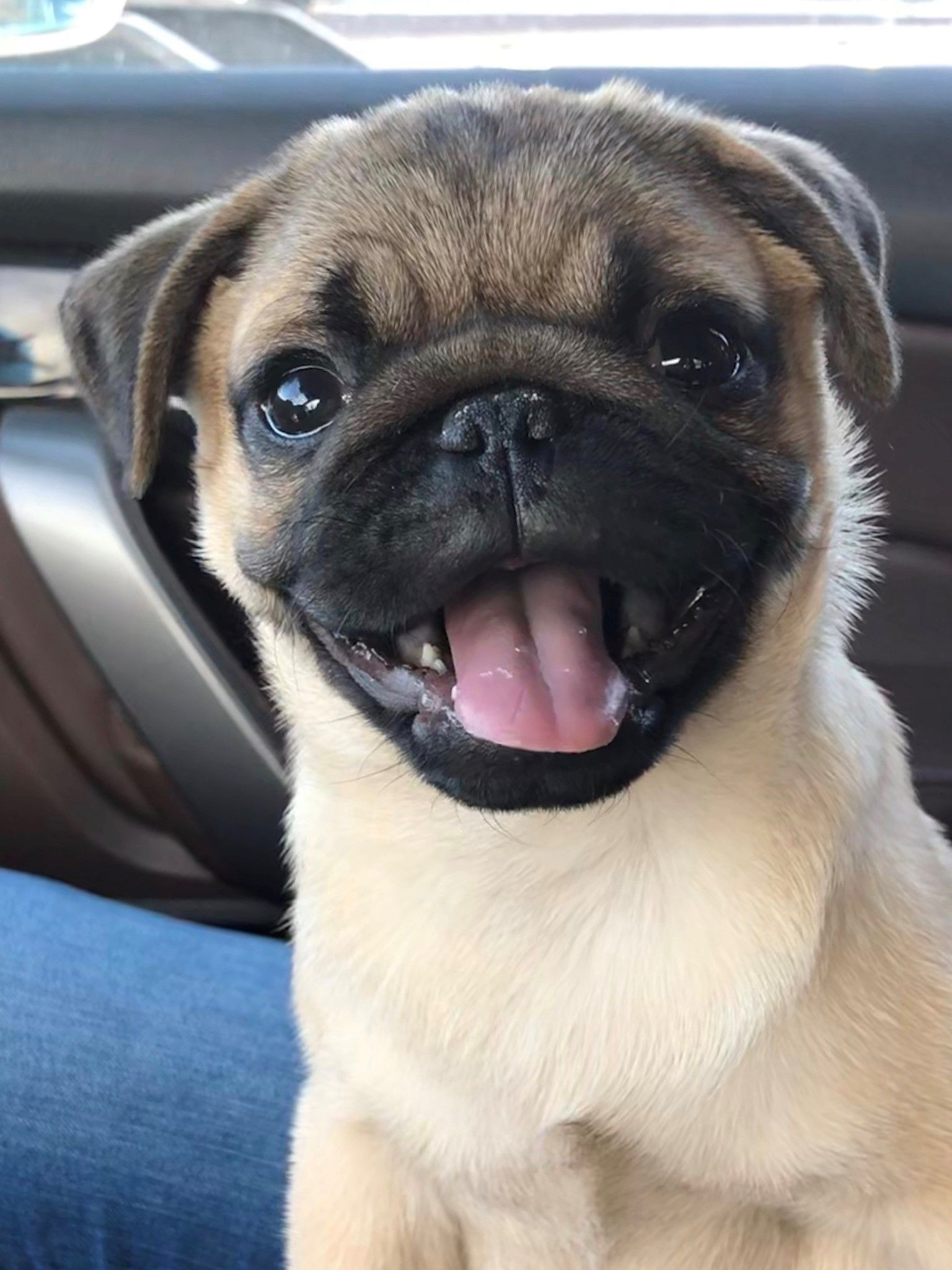 Common Questions about our Pug Puppies for Sale:
Is a pug the right choice for me?
Pugs are relatively easy dogs to care for, but they are not a good choice for all families! Please read our Pug Personality and Health pages, and do your research before you choose a pug.
Which make better pets, males or females?
Both sexes make excellent pets if they are spayed or neutered. Please visit our Pug Health page to learn more about the importance of spaying and neutering.
Each pug is an individual, but there are a few typical differences between the sexes. All descriptions here refer to spayed or neutered pets. Generally males are more easy going. They are often even more patient with children and are a bit less likely to choose just one family member to be the object of their undying adoration. For families with children or several members, we tend to recommend our baby boys as the best choice.
Female pugs tend to be more dedicated to just one or two people. Their love is intense and sometimes even jealous. Our own first pug, Penelope, spent much of her time trying to squeeze her fat little self in between Mom and Dad on the couch or in our bed. To outsiders she appeared to be on a magical leash no more than ten feet long that attached her to Mom for life! For singles, couples, and those who want an intense puggy love affair, we recommend a baby girl.
What color should I choose?
What color is your furniture? Your pug is going to shed a LOT. Fawn pugs can have a rich velvety double coat that makes them feel like plush stuffed animals. Blacks are shiny and sleek. There is no difference in temperament.
There are pugs puppies for sale in my local paper, for a lot less money. Why should I pay more for an Ugly Mugs pug?
When purchasing a puppy, you are making a decision that will affect every day of your life for the next twelve to fifteen years. It costs money to raise puppies the right way! Buy your puppy from a reputable pug breeder! Choosing an Ugly Mugs pug can save you a lot of heartache in the future caused by purchasing a sickly puppy or one who wasn't played with enough as a baby. Our knowledge of each pug as an individual will help us choose one with a temperament that suits your family.
We stand behind our dogs for life. Our health guarantee doesn't offer an empty promise that if you return a sickly puppy we'll give you another one – who could return a beloved pet just when it needed you most? Our health guarantee actually helps to cover vet bills for certain genetic health issues.
How can I reserve an Ugly Mugs pug puppy?
First, you must qualify. We love our puglets. We spend a lot of time with them, and each one is special to us. Ugly Mugs pugs come with a lifetime commitment from us – no matter when, no matter why, we will always welcome an Ugly Mugs pug home if you cannot continue to provide for your pet. But that will not help him to feel better about losing his family.
Ugly Mugs pug puppy prices start at $1600. We will reserve puppies for a non-refundable deposit of 50% of the purchase price until the puppies are four weeks old, after which time the full purchase price is due. We never allow puppies younger than a full two months of age to leave the farm. Each puppy receives his first puppy shots and worming before he goes home. Please review our health guarantee to learn about our puppy purchase policies, our obligations as breeders, and your obligations as a buyer.
Ugly Mugs pugs are available only to stable families who are dedicated dog owners. You must be able to provide enough attention and stimulation for a sociable pug puppy. You must have the patience and consistency to house train a pug puppy. Due to the breed's tendency toward respiratory problems, we cannot place our pugs with families who smoke indoors. Gentle pugs can live only with other peaceful pets for their own safety.
If you feel that a pug suits your lifestyle and that you could provide a pug with a loving home for life, here are the steps to become a puppy parent:
Join our email notification list. We post new litters as they arrive.
Call us at 605-669-3366 for a puppy buyer interview as soon as we post a puppy that interests you. The puppies go very fast, often selling before we have a chance to take any photos.
If your puppy buyer interview is successful, you will email us with your legal name, street address, and phone number. We will make up a sales contract and email it to you, and invoice you for your deposit via Paypal.
You will have twenty-four hours to return your contract and deposit.
We typically send photos every other week until puppies are ready to go home.
Once your puppy is two months old and has reached all his developmental milestones, he will be ready to go home!
Wait - I have to buy the puppy before I've even seen a photo?
Usually, yes. We sell our puppies on a first come, first serve basis, and we usually share them with the email list just before their eyes open and we have pictures. But we can assure you that once we start sending photos, if you are not absolutely thrilled with the puppy reserved for you, we can place the puppy with another family and either refund your deposit or transfer it to another puppy. We have far more buyers than puppies, and we want our customers to be delighted in every way with their puppies.
I already know that I want a fawn male. Can't I just pay a deposit to hold the next one that arrives?
We do not accept deposits until we have a healthy puppy in hand. Because we can never predict when a certain color or gender will arrive, we don't feel comfortable holding anyone's money while we wait. Please join our notification list so that you'll know when the right puppy arrives.