Life is good for an Ugly Mugs pug…
Our pugs primarily live in the pug house, where they live in groups of two or three in eight by eight foot indoor pug rooms with forty foot long attached exercise runs. Each is room is fully sanitizable. A grooming room with bathing facilities completes the kennel facility.  Keeping dogs happy and occupied is an important part of being a responsible breeder.
Ugly Mugs girls are never bred every cycle, and we retire them by age five or six. Retired pugs are spayed or neutered and placed in carefully screened pet homes. You can learn more about the indulged life of an Ugly Mugs pug when you read about us.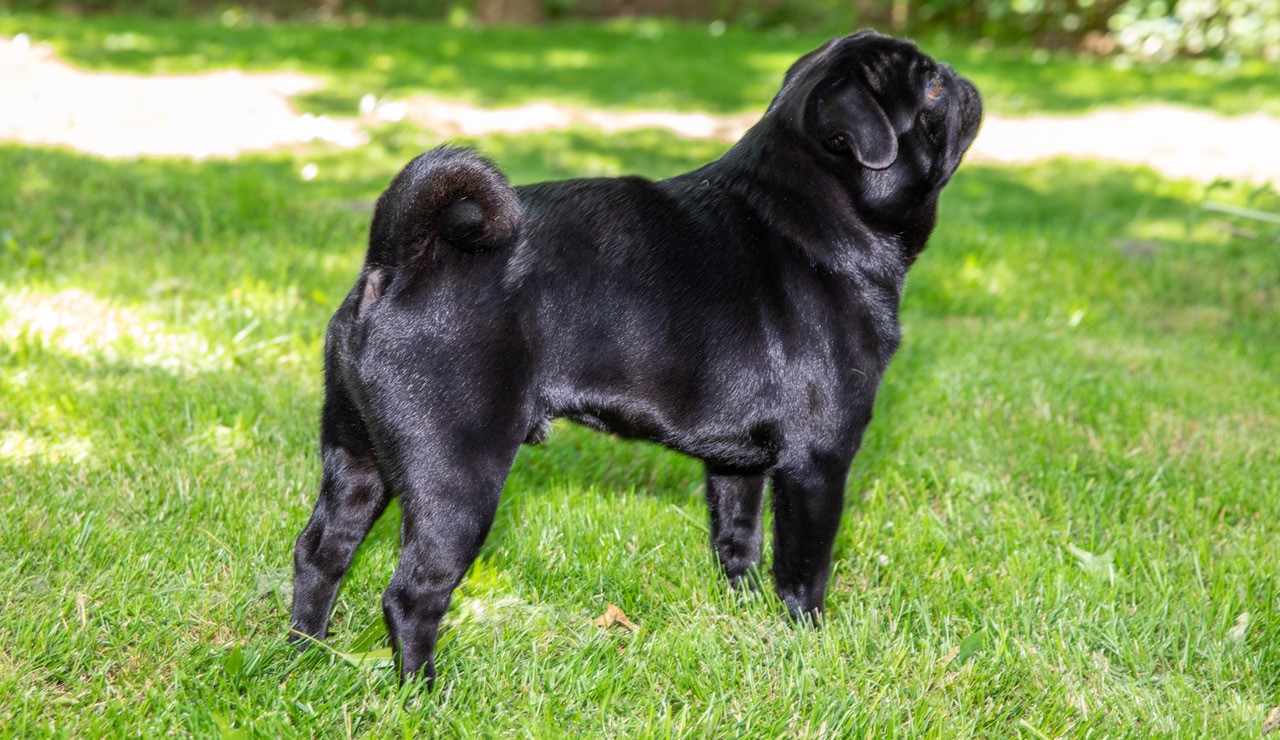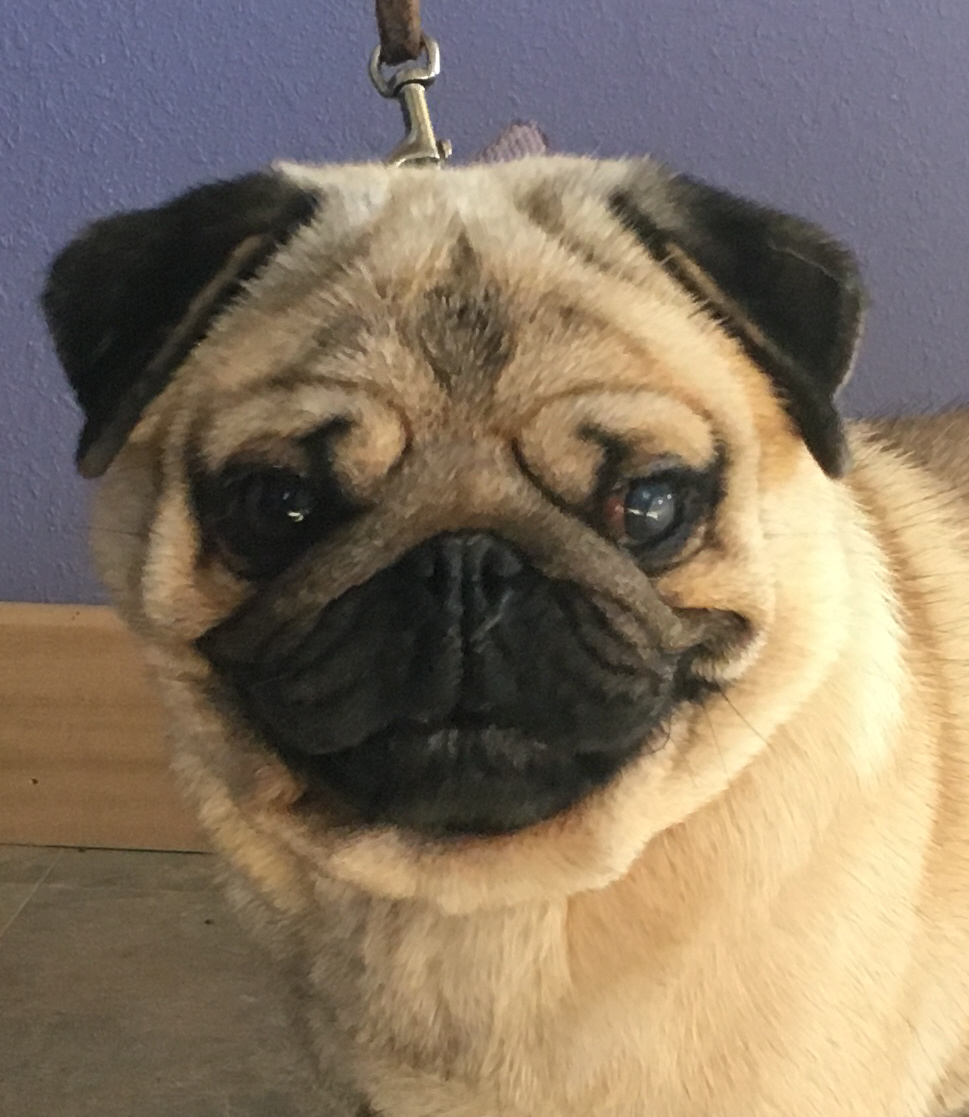 Sailor (n/S)
This lovely boy is the sire of AKC Gr. Ch. Huphrey Snicklefrantz Starnes, and we could not be prouder.
Sailor is an exceptionally silly boy, with no sense of dignity whatsoever.  He passes his happy-go-lucky attitude to many of his pups.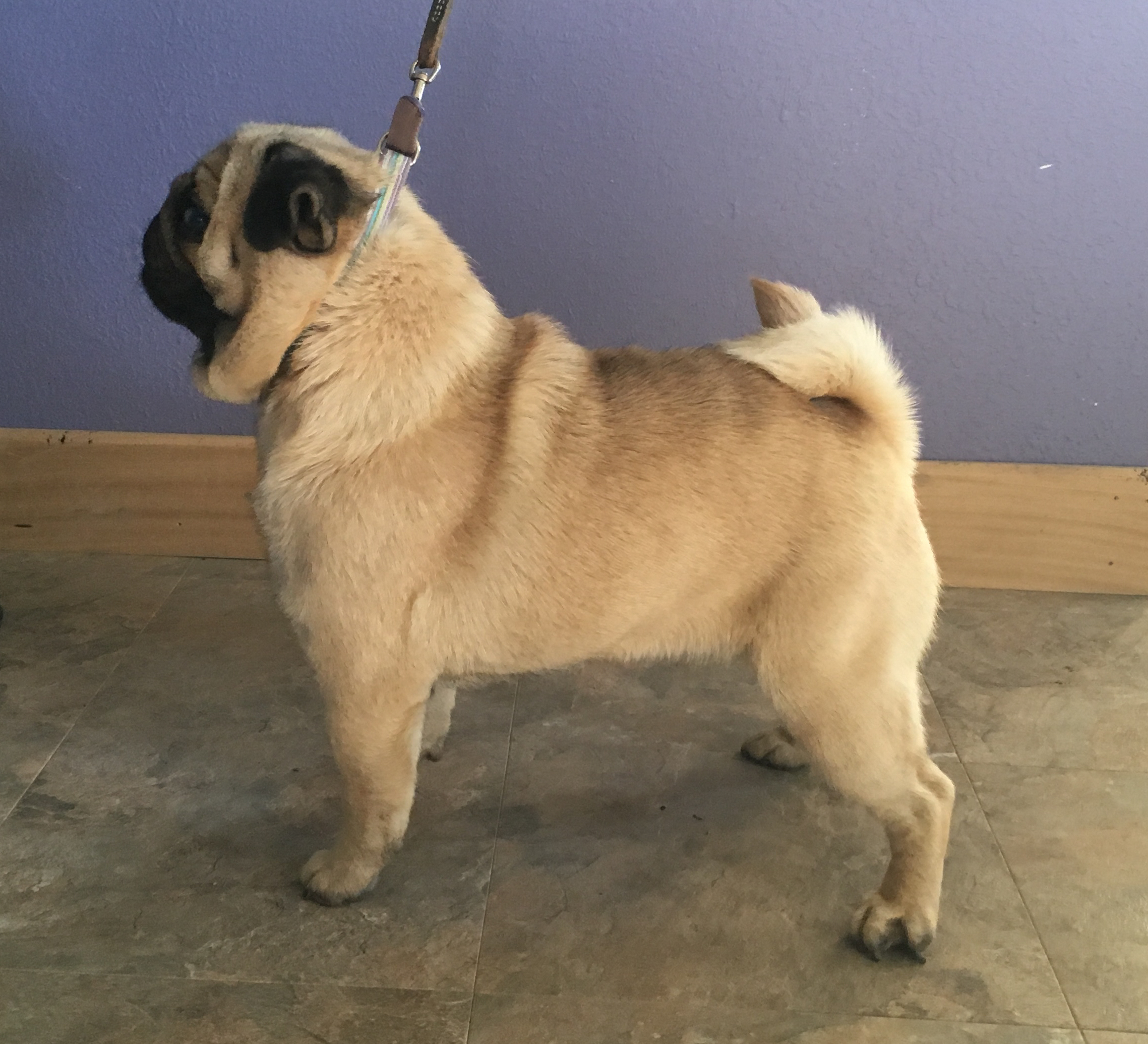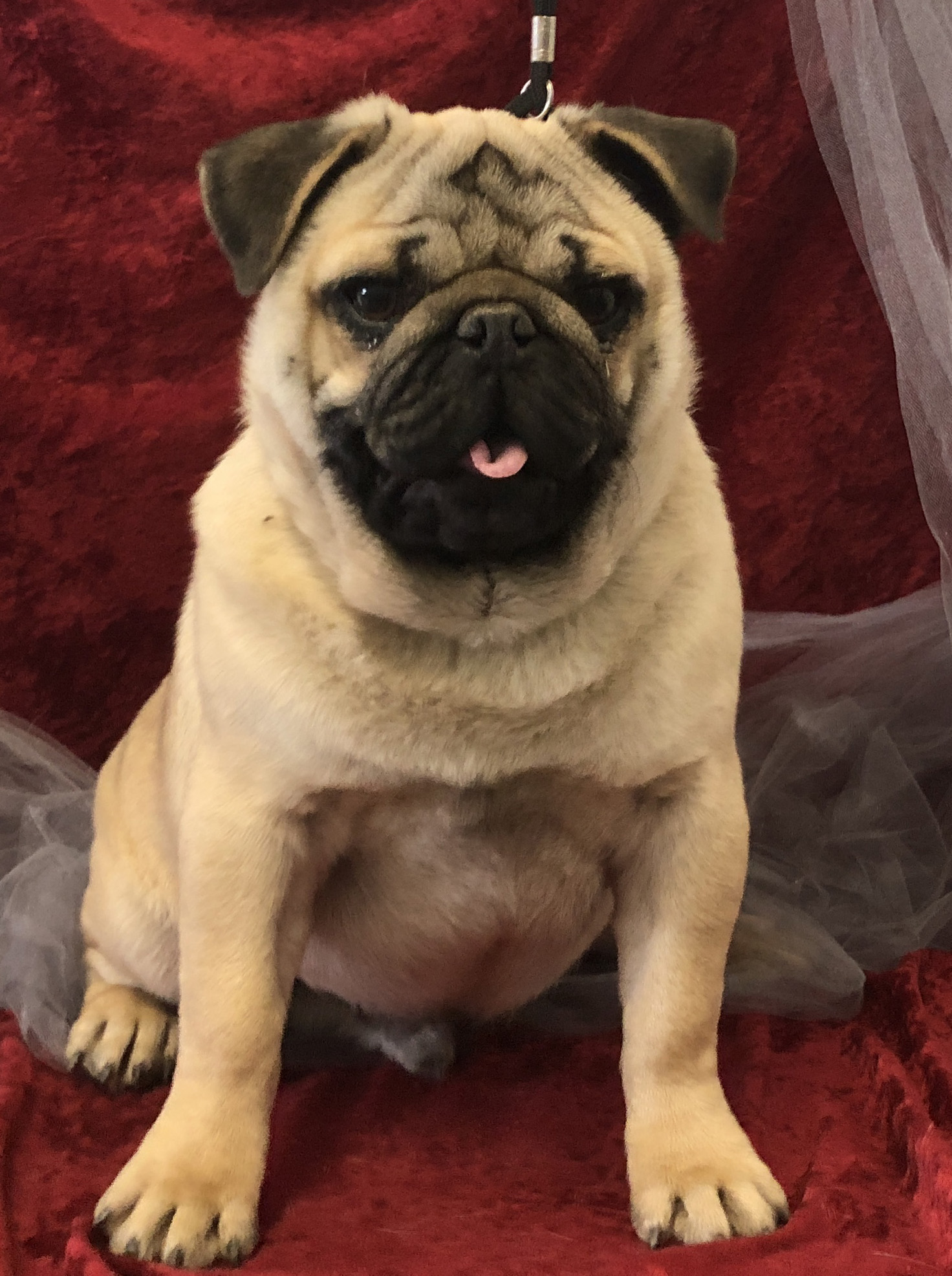 Ugly Mugs Baby Huey (n/n)
Bred by Sherfy Pugs.  We are honored that Sherfy allowed us to have Huey!  Just look at that bone.  With his excellent wrinkles, level topline, and bone to spare, we're excited about the impact this handsome boy will have on our future generations.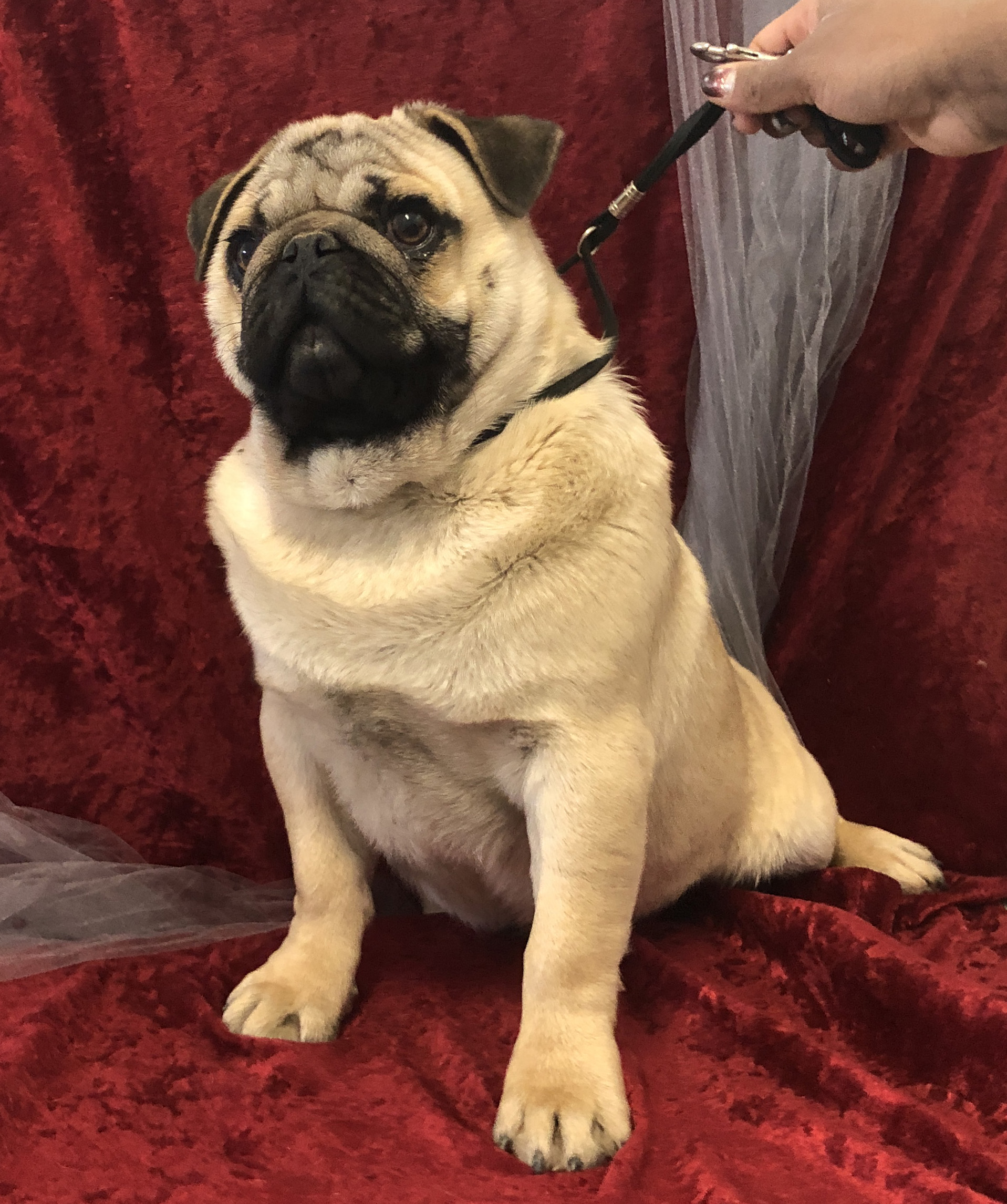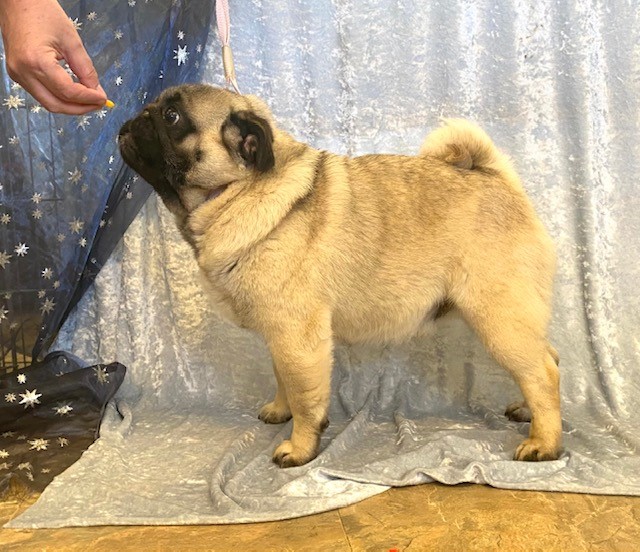 Bright Brilliant Casper (n/p)
Bred by in the Ukraine and imported by another pug fancier.  Casper won many shows in the Ukraine prior to coming here for testing and breeding.  He is super chunky, with a lively, expressive head we're hoping he passes along.  Just look at that cobby body!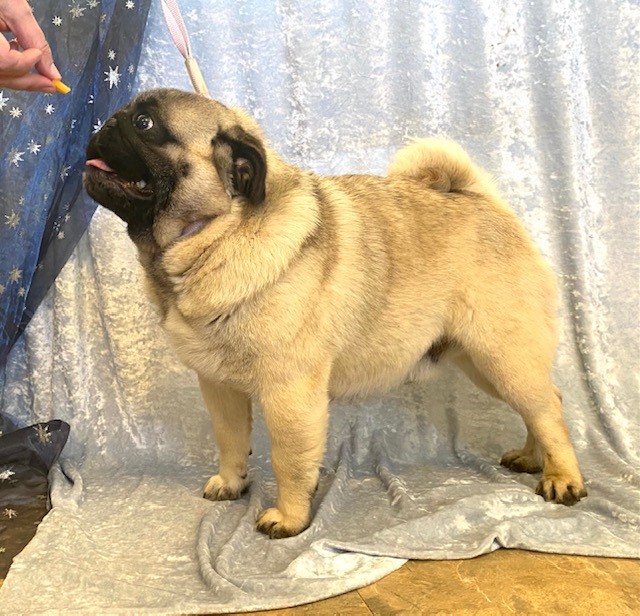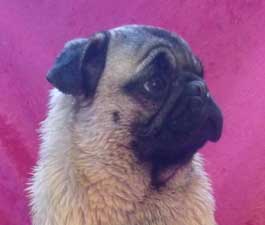 Etta James
Etta James is by Tank our of Ugly Mugs Squash. She's a delicate little girl, weighing about fifteen pounds.
Etta has a very nice coat and an easy, mild temperament. She gets along with everyone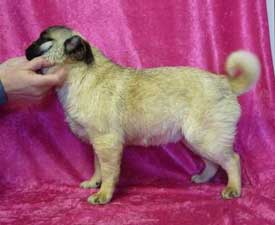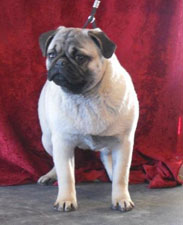 Kyoko
Kyoko is by Lion-O our of Ugly Mugs Grace. Her name means 'princess', and she is one. A feminine, sweet and mild girl, and an excellent mother.
We have kept Etta's first daughter for ourselves, but a few lucky families will eventually get to own one of her lovely puppies.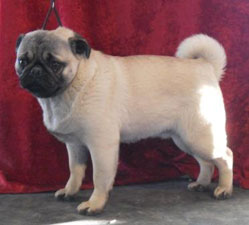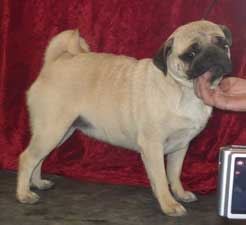 Sweet Potato
Ugly Mugs Sweet Potato is the daughter of Spencer and Squash. 'Tater', as we call her here on the farm, was born on New Year's Eve, 2011. She's been partying like a rock star every day since. She is a wild, crazy, insanely energetic puppy who will grab and run off with anything she can reach. She is a notorious escape artist, escaping through the smallest opening and celebrating her freedom by parading in front of everyone else, causing complete chaos.
Tater has proved to rise to motherhood with dignity, and return to being her ridiculous self the very day her puppies are weaned.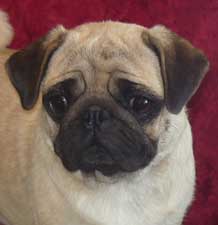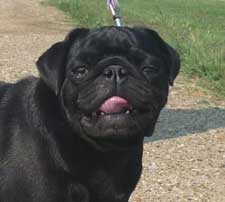 Kimiko
Ugly Mugs Kimiko is the daughter of Spencer and Gloria. Both her parents were born here on the farm. Gloria is the daughter of two of our beloved founding pugs, Frank and Bessy. We did try to show Kimiko, but she hates the ring! Her tail droops as straight as a labrador's. Truly, there is nothing more pathetic than an unhappy pug. She now stays at home except for the occasional car ride for fun.
We hope that Kimiko's daughter Pancake may prove more ammenable to the limelight than her mother.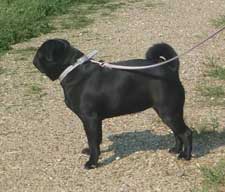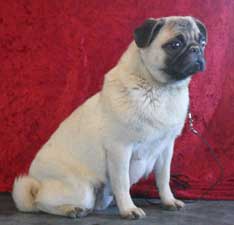 Prudence
Ugly Mugs Prudence is the daughter of Lion-O and Sweet Stuff. She has a remarkable double coat, courtesy of Lion-O. She produces enough hair to construct another pug every two months or so!
Prudence is an exceptionally silly girl who loves to duck out her doggie door and peek back in when we come into her pen, and then whine for attention as soon as we step outside. She is proving to be a remarkable mother. Her puppies are beautiful and she watches over them like a pro.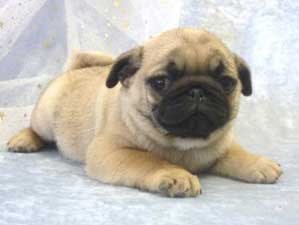 Menchi
Ugly Mugs Menchi is the daughter of Lion-O and Squash. Even as a small puppy, we knew she was just what we'd been waiting for. Check out that hind end! And that amazing double coat! Menchi has a glorious show career ahead of her, if she can stop goofing around for long enough for a judge to evaluate her. Maybe she'll be ready in fall of 2013.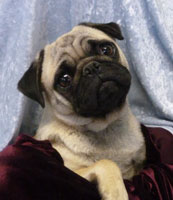 Apple
Ugly Mugs Apple is the daughter of Lion-O and Sweet Potato. She is everything we had hoped for – lovely and feminine. Just look at that face! She's also a super sweetie. Just the right blend of cuddly and silly. She is proving to be an excellent mother as well.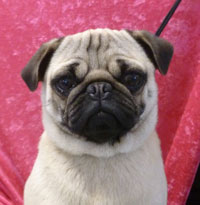 Camilla
Ugly Mugs Camilla is the daughter of A & E's Mighty Mojo and Ugly Mugs Joy. Sweet, sweet, sweet! Just as gentle and loveable as her mother, also born here the farm. Pretty and feminine, we look forward to Camilla's babies starting in 2017.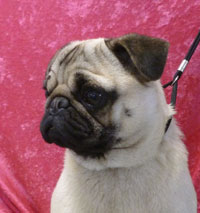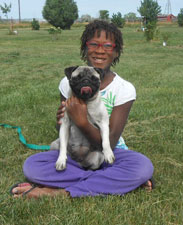 Pearl
Ugly Mugs Pearl is the daughter of Spencer and Kyoko. She's a wild and crazy girl, but surprisingly trainable and obedient for a pug. Her puppies, planned in 2016, might make good rally pugs.